Fleet Galaxy Dreadnought
The first time the Galaxy Dreadnought was introduced to the franchise was in the series finale of Star Trek: The Next Generation titled "All Good Things." I don't think any of us can forget the visual of a high speed Enterprise-D decloaking and vertically charging towards the Klingon vessel that was set out to destroy Captain Picard and the TNG crewmembers onboard the U.S.S. Pasteur, firing a massive phaser beam out of the Spinal Phaser Lance, obliterating the KDF Vessel with one powerful shot, and speeding through the debris with 3 nacelles on its back. Such a strong scene has certainly remained one of the most memorable in all of TNG lore.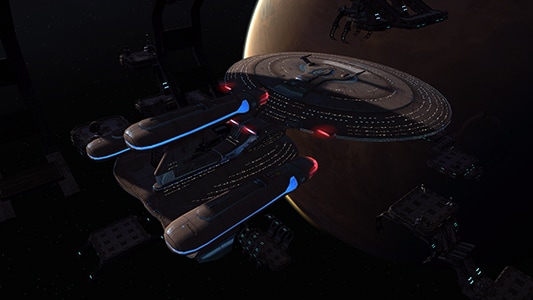 We are pleased to announce the release of the Fleet version of this powerful Federation vessel.
Below are the base stats for the Fleet Galaxy Dreadnought:
Faction: Federation
Required Rank: Vice Admiral (50)
Availability: Fleet Starbase with Tier 4 Shipyard
Hull Strength: 44,000
Shield Strength: 1.1
Crew: 1000
Weapons: 4 Fore, 4 Aft
Device Slots: 4
Bridge Officer Stations: 1 Lieutenant Tactical, 1 Lieutenant Commander Engineering, 1 Commander Engineering, 1 Lieutenant Science, 1 Ensign Universal
Console Modifications: 4 Tactical, 4 Engineering, 2 Science
Base Turn Rate: 6 degrees per second
Impulse Modifier: 0.15
Inertia: 25
+5 to all power levels
Can Equip Dual Cannons
Hangar Bay: 1

1 Type 8 Shuttle Hangar Pet

Console Synergy:

Console – Universal – Saucer Separation

Found on Exploration Cruiser Retrofit
The Fleet Dreadnought Cruiser does not come with this console

Matter-Antimatter Warp Core
Cruiser Communication Array Abilities:

Command – Weapon System Efficiency
Command – Attract Fire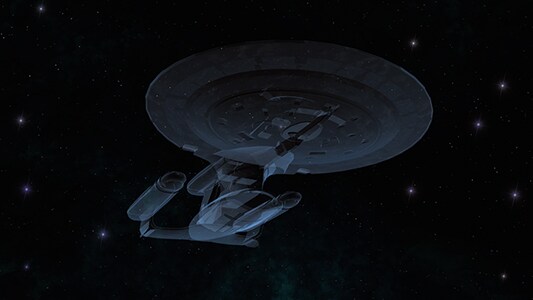 The Fleet Galaxy Dreadnought will be available to any Fleet with a Tier 4 Shipyard. Like all Fleet ships, the Fleet Galaxy Dreadnought will enjoy the standard +10% Hull Hit Points and Shields, and a 10th console slot. It will come standard with an integrated Phaser Lance, and Hanger Slot. The Fleet Galaxy Dreadnought will be available for 5 Fleet Modules or 1 Fleet Module if you already own the C-Store Galaxy Dreadnought.
The Fleet Dreadnought is also capable of equipping the following:
Universal Cloak Console – The Fleet Galaxy Dreadnought will support the use of the Universal Cloak Console, but will not come with the console itself (If you own the C-Store Galaxy Dreadnought, you can equip the console from that ship onto the Fleet version).
Hangar Bay – The Fleet Galaxy Dreadnought will have one Hangar Bay Slot, filled with 1 Type 8 Shuttle pet, although it can also equip any standard Federation hanger pet.
Saucer Separation – The Fleet Galaxy Dreadnought will also support Saucer Separation. The Fleet Galaxy Dreadnought does not come with the Saucer Separation Console itself (You may equip it if you have purchased the Galaxy Class Exploration Cruiser Retrofit from the C-Store, which includes the console).

The separated saucer pet of a Fleet Galaxy Dreadnought has a more tactical flavor than the standard Galaxy Saucer pet. It is equipped with Dual Phaser Cannons, and a mini-Phaser Lance.
Phaser Lance Wide Beam – When the Saucer is separated, the Fleet Galaxy Dreadnought's Phaser Lance standard beam becomes a Wide Beam attack (like a sawed-off shotgun). Damage is only slightly reduced, but the affect area is much larger.

Antimatter Spread on Saucer – When equipping the Antimatter Spread console on the Fleet Galaxy Dreadnought, the separated saucer pet will gain the Antimatter Spread ability.
Set Bonus – The Antimatter Spread Console and Saucer Separation Console will enjoy a 2 piece set bonus. Equipping both will grant you:

+20 Starship Starship Hull Plating skill
+20 Starship Armor Reinforcement skill
+2 Turn Rate bonus
NOTE: Details are subject to change.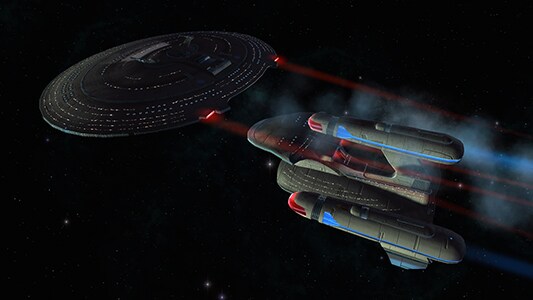 Fleet Galaxy Dreadnought Saucer Separation
The above ships will become available around 10AM PST next Thursday, March 6th, 2014.
We hope that you enjoy the addition of the Fleet Galaxy Dreadnought to STO, and we look forward to seeing many of these fine vessel in-game!
- - - - -
Click here to learn more about Legacy of Romulus, our free-to-play expansion for Star Trek Online. Advance your journey of rebuilding the Romulan legacy with a Legacy Pack purchase! Click on the logo below to learn more about it.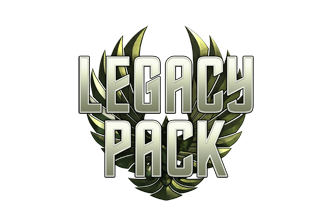 Want more game details, screens, and videos? Like Star Trek Online on Facebook for more exclusive content and follow us on Twitter – tweet us your questions! And, subscribe to our YouTube channel for the latest Star Trek Online videos.
- - - - -