Any adventurer's Forgotten Realms journey begins with a first, small step into the vast and fascinating world of Neverwinter. To guide brave new adventurers through their first hours, we created this guide to shed light on a path to endless riches in order become Neverwinter's next hero.
But, you won't have to fight on your own. This guide will provide the necessary basics for you to fend off any dangers you may encounter and survive!
Basic facts about questing:
Right from the very first quest, there will be a sparkling trail – activated or deactivated with the "Z" key – on the ground in front of your character which leads towards the next quest objective. This path will always highlight the route towards your active quest's target. Within the journal – accessible by pressing the "J" key – the current active quest can be changed. Whichever challenge you want to tackle next is up to you!

General in-game knowledge:
Bags
Adventurers seeking treasures will also need a place to store all their loot they found on their journey. Extra bag space will prove useful inside dungeons and hunting in the fields. Don't be the one who leaves precious loot behind!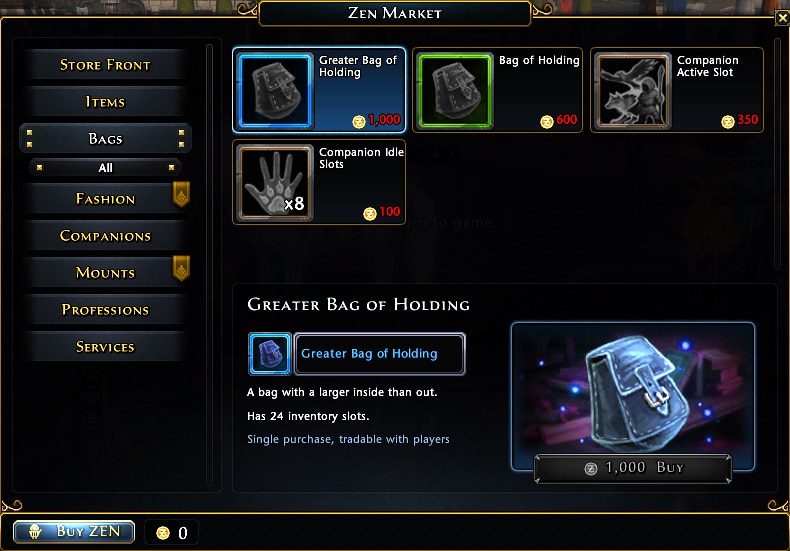 Prayer
Once your character reaches level 11, and has finished the prayer quest from Sergeant Knox, pray with "Ctrl" and "I" keys at the main Campfire in Protector's Enclave. Prayer is also available at any adventure zone's campfire or at a Portable Altar once every hour.
This will grant the adventurer the chance to obtain Rough Astral Diamonds, which can be converted into spendable Astral Diamonds, potions, special buffs, and precious experience points. Be aware that the rewards will decrease with every prayer per day. However, the best rewards, like Rough Astral Diamonds and experience points, will be obtainable again the next day.

Potions
During your adventures, you may need healing potions to treat injuries suffered on the battlefield. These potions can be found as loot on monsters or bought from vendors found in Protector's Enclave and all adventure zones. Always be prepared and carry potions with you - you never know when it could save you in battle!
Mounts
The world of Neverwinter is not just populated by monsters, creatures, dragons, and adventurers. To face the dangers ahead, heroes need trusty allies alongside him or her. One such ally is their mount. There are many amazing and majestic mounts available to accompany heroes on their adventures.
To view what's available, visit the Mount Merchant in Protector's Enclave or Neverwinter's Zen Market, accessible with the "Y" key. Besides classic mounts such as horses, they will find cantankerous Grizzly Bears, Armored Boars, Giant Spiders, and noble Unicorns. Many of these mounts are faster than your average horse and will get you to battles much quicker than your friends!
Mounts can be acquired in many different ways:
For gold at the Mount Merchant in Protector's Enclave.
By trade at the Auction House or Protector's Enclave vendors for Astral Diamonds.
At the Tarmalune Trade Bar Merchant for Tarmalune Trade Bars found inside lockboxes.
Under the Wealth tab in the Vault of Piety, accessible with the "I" key, for Ardent Coins.
In the Zen Market, press the "Y" key, and under the Mounts tab.
Companions
Another trustworthy ally that's available is your companion. With the companion system in Neverwinter, you have access to numerous companions for every occasion and role. The selection is vast ranging from cunning animals like the Honey Badger, to the poisonous Grave Spider, to hired mercenaries like the Cantankerous Mage, to battle-scarred Man-at-Arms. You will even find magical creatures like the Fire Archon, Galeb Duhr, fairies, and many more.
How can I obtain a companion?
Players can obtain companions from the Wondrous Bazaar, Tarmalune Trade Bar Merchant, Emporium Vendor inside The Grand Emporium at Protector's Enclave, and the Zen Market.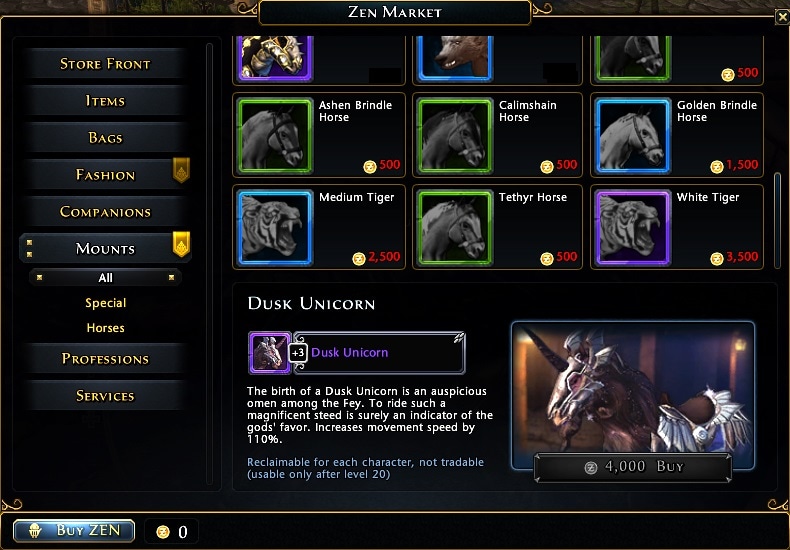 Are there special and unique companions in Neverwinter?
Of course there are! Some of the greatest and most unique companions can be acquired by purchasing a Neverwinter Pack or a Knight of the Feywild Pack. Even the epic Feywild Lockboxes come with a chance to reward you with special and unique companions.
The Foundry
Another special feature which makes Neverwinter unique within the world of MMOs is the Foundry. The Foundry allows players to generate new game content and quests for Neverwinter. The possibilities are limitless – be as creative as you wish! New level designs, memorable NPCs, and much more can be created and edited within the Foundry. These quests can then be shared with the Neverwinter community once created. The powerful Foundry tool allows you to share your unique Neverwinter vision with other adventurers in Forgotten Realms – all for free!
Also, Neverwinter rewards you for running Foundry missions! Every day, new Foundry daily quests are available at Rhix in Protector's Enclave. Completing these daily Foundry quests will reward you with valuable Astral Diamonds. To accept a Foundry quest, press "K" and select the "Catalog" tab. Don't forget that monsters inside any Foundry quest will scale to your level.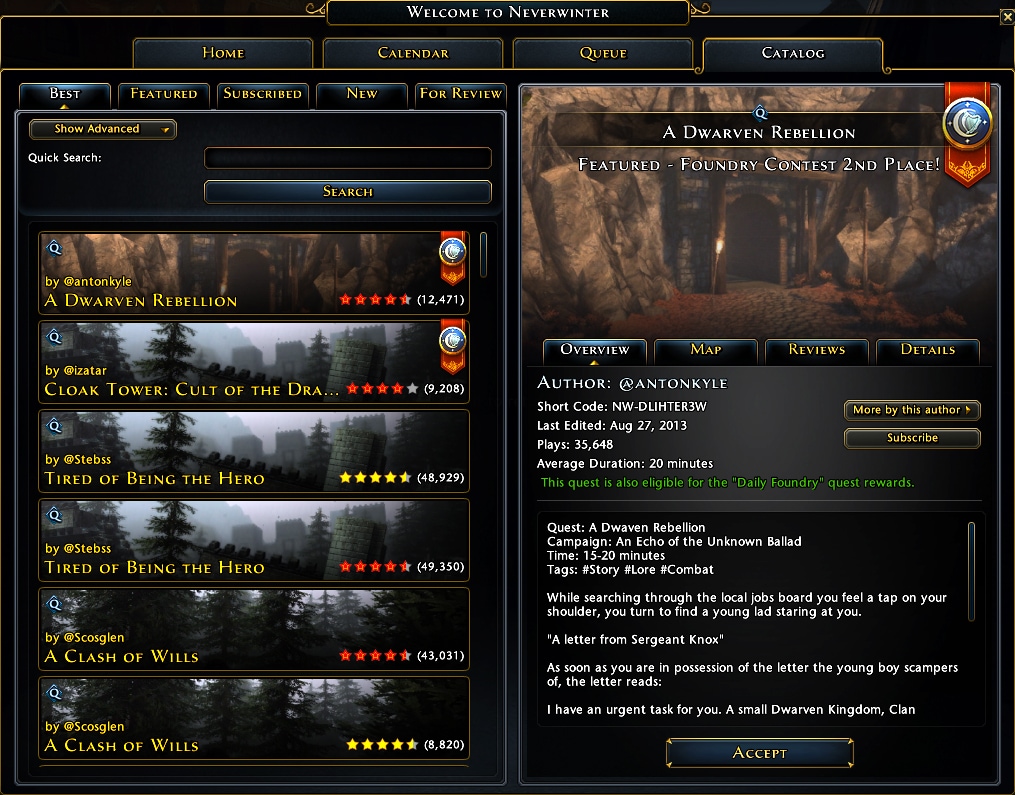 Keep an eye on our website, our Facebook page, and the Neverwinter forums. We'll highlight our favorite Foundry missions weekly – yours could be next!
PvP
Want to prove your might against other Forgotten Realms adventurers? Look no further than PvP (player versus player) combat! With Domination PvP mode, you and four other teammates with fight to defend vital capture points. Holding these points will earn your team points in addition to any opposing team kills. At the end of a Domination match, the first team to gain 1000 points, or has the highest point total when the timer runs out, will win! Once the battle is finished, both teams will gain honor points which can be exchanged for epic items in Protector's Enclave.
Click here to register for Neverwinter, the Dungeons & Dragons action MMORPG. The best part about Neverwinter: it's free to play! Get a head start in-game by purchasing Neverwinter item packs which include unique companions, mounts, boosts, and exclusive benefits!

Want more game details, screens, and videos? Like Neverwinter on Facebook for more fan-exclusive content and follow us on Twitter – tweet us your questions! And, subscribe to our YouTube channel for the latest Neverwinter videos.