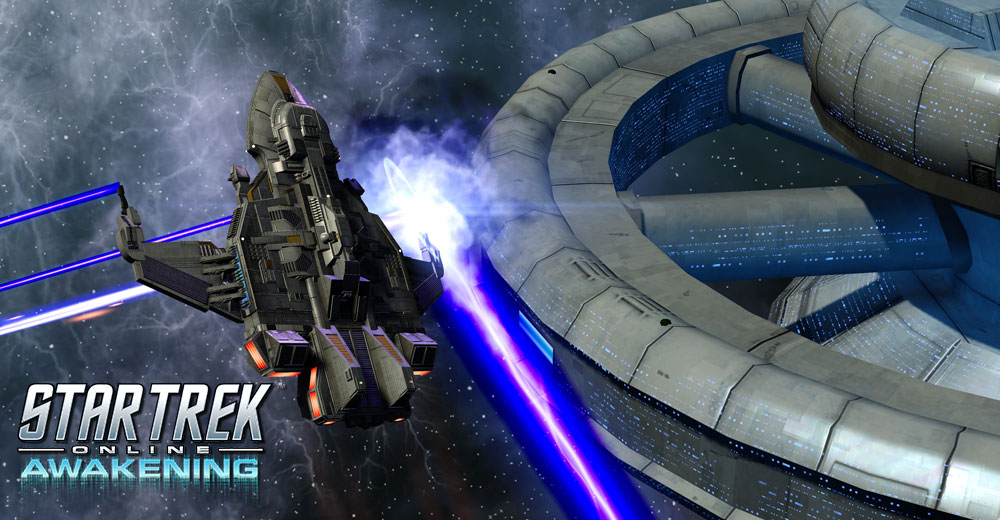 Coming soon to Star Trek Online's Tribble Test Server is an all new space map to test your skills in space combat!
Starbase 234 – Rebuilt and Reborn!
After its devastation by the Heralds in the Iconian War, Starbase 234 has been rebuilt from the ground up to once again serve as a training ground for Alliance starships! This improved Starbase makes extensive use of holographic technology to allow captains to engage in simulated combat in a wide variety of situations.
This extensive training ground is intended to ensure that Starship Captains and their crew can safely become experienced against the many foes in the galaxy, to ensure they're as prepared as can be. For captains wishing to appear on the frontlines of the most dangerous battles, the simulated enemies on this map can become as daunting as you feel worthy of challenging, to ensure that the Captain and their crew are up to do whatever it takes to survive!
After entering the system, you will be able to hail Starbase 234 to setup what enemies you wish to face against, to learn more about this system, to access your bank, or more!

Test your ship against classic foes, Old and New!
Captains in this new map will be able to configure the simulated combat in a wide variety of ways to get the most effective training for them. You can choose from more than a dozen enemy groups to face off against, in a large number of scenarios. In addition, while the scenarios are already of varying difficulty, players can raise or lower the difficulty of whatever encounter they're going to face next!
In addition, for captains looking for a more simple experience, simple but highly durable target ships are also available to practice against on this map. The number of target ships available and some basic information about them can be changed as needed.

Get feedback in real time!
The simulated combat offers something new to Star Trek Online – an automatic, integrated combat parsing function! Shortly after completing any encounter on this map, you will receive a hail from Starbase 234 with information about how you did in that encounter. This hail includes data about your ship's outgoing damage and how long you spent in combat against that encounter.
While Starbase 234 will automatically hail you after normal combat encounters, you will need to stop and start the combat tracking yourself if in target practice mode. As with other things on the map, this is done by hailing the Starbase. Shortly after you stop the combat data collection, you will be hailed by Starbase 234 with the data about how you performed in that interval.

Try it out on Tribble!
This map will be available on Tribble shortly. It can be accessed by going to the Tribble Test Vendor on Drozana Station, where special items are available to test with.
To copy your character to Tribble:
Navigate to the Tribble Test Server page and log in with your account credentials.
Read through the information on the page and click the 'Sign up!' button at the bottom.
Select a character you wish to transfer from the "Character" drop-down menu and select which Test Server you want from the "Server" drop-down menu.
Click 'Copy Character'.
Log into STO and select either Tribble or Redshirt from the drop-down menu.
Once patching is complete, click 'Engage'.
Note: This map is not intended to be a replacement for normal content, and neither the map nor anything on it will grant any rewards. The intent of this map is to provide a place to practice and easily measure your ship in a variety of setups, especially for players who cannot or do not want to use third party programs to do so.
** All of the above details are subject to change.
Jette "CrypticSpartan" Leavens
Systems Designer
Star Trek Online