Paladyni to obrońcy uciśnionych i prawdziwe wzory moralności i sprawiedliwości. W swoich podróżach, często stawiają czoła złu, dbając przy tym o kodeks moralny określony przez ich boskich patronów. Znani, jako doskonali obrońcy i uzdrowiciele, Paladyni są niezastąpieni, gdy chodzi o przygody w Zapomnianych Krainach.
Klasa Zaprzysiężonego Paladyna będzie darmowa dla wszystkich graczy, gdy tylko dodatek Elemental Evil trafi do gry, jednak dla tych, którzy chcą czegoś ekstra dla swoich paladynów, mamy coś specjalnego!
Mamy przyjemność przedstawić Pakiet Dodatkowy Zaprzysiężonego Paladyna, który trafi do Sklepu Zen!
W środku tej błogosławionej paczki znajdziecie wszystko, co potrzebne tym boskim obrońcom i wiele więcej!
Każdy Pakiet Dodatkowy Zaprzysiężonego Paladyna zawiera:
Towarzysza Oddanego Giermka – Ten gorliwy, młody giermek pragnie pewnego dnia zostać paladynem. W ramach swojego szkolenia postanowił podążać za tobą i pomóc Ci we wszystkich przedsięwzięciach. Ten prawdziwy obrońca sprawiedliwości będzie idealnym towarzyszem do walki, gdy sprawy nabiorą ponurych barw.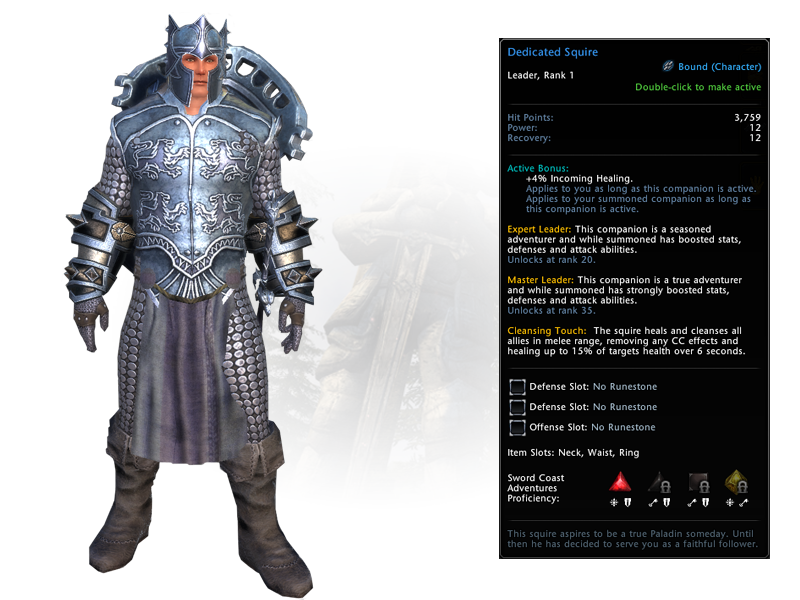 Błogosławione Uzbrojenie Paladyna – Pobłogosławione przez samych bogów, uzbrojenie to promieniuje poczuciem sprawiedliwości. W skład zestawu wchodzi buława, tarcza, hełm i płaszcz – buława i tarcza zawierają w sobie Insygnia Szarych Płaszczy.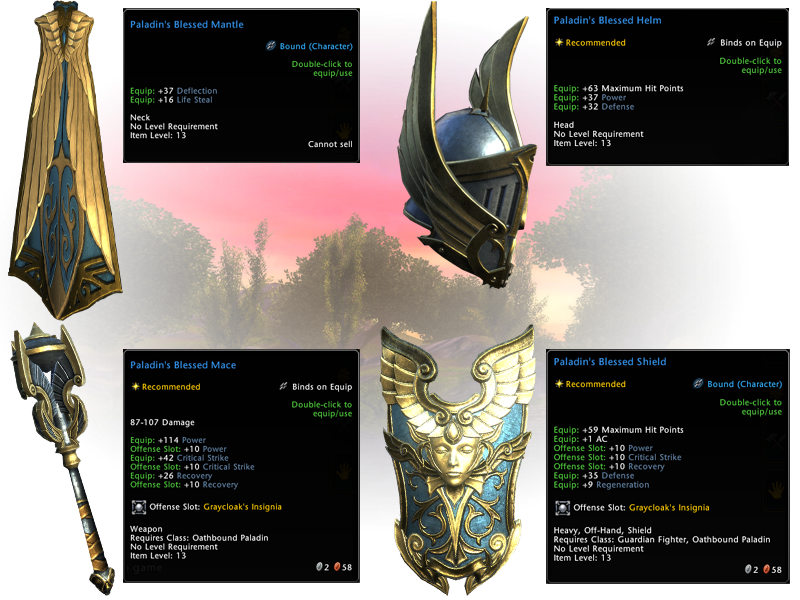 Większą Pojemną Torbę – Torba ta została zaklęta, by mieścić więcej przedmiotów niż mogłaby zwykle unieść. To idealny dodatek dla poszukiwacza przygód, który chce mieć wszystko!
Pomocny Zestaw Poszukiwacza Przygód – Mały woreczek ze wszystkim, co potrzebne do rozpoczęcia przygody w odpowiedni sposób.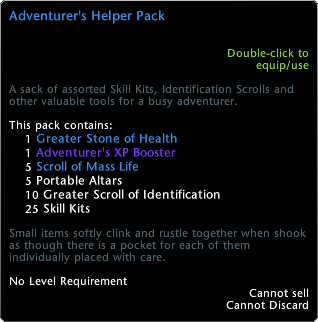 Tytuł "Obrońca Uciśnionych" – Idealny tytuł podsumowujący wszystkie wartości, za którymi stoi paladyn.
Dzięki tym boskim narzędziom, będziesz mógł iść naprzód i nieść sprawiedliwość na całym świecie. To prawdziwie pobłogosławiona przez bogów okazja.